On Thursday, September 1st, Metropolitan Kallistos (Timothy Ware) was buried in his hometown of Oxford. He died August 24th, almost 88 years of age. Memory Eternal! His many books, articles and lectures are characterised by his profound knowledge, coloured by the practice of an Orthodox life. Making the complex tradition of Eastern Christianity accessible to a broad audience, with clarity and wit, was one of his main strengths. In doing so, he built bridges to Western Christianity, where his religious roots lay (he was raised an Anglican). Even at an advanced age he traveled all around the world. His books The Orthodox Church and The Orthodox Way have become a guide for many. With his wise counsel he gave direction to his spiritual children on their life's path.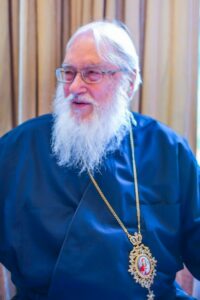 Metropolitan Kallistos can be viewed as the spiritual father of St Irenaeus Orthodox Theological Institute and of three of our staff members. He supported the establishment of the predecessor of our institute (Amsterdam Centre for Orthodox Theology) with enthusiasm and was keenly interested in its further development. Continuing in his vein, we aim to both deepen our knowledge of our different traditions and remain open to new developments and insights from within and without Orthodoxy. Our point of departure are the original works of Fathers and Mothers of the Church, to be studied preferably in the original language. His extensive work on translations has inspired us to prepare a Dutch translation of the Psalms from the Septuagint.
Metropolitan Kallistos has visited The Netherlands several times. Here you'll find a lecture he delivered in Amsterdam in 2015, as part of the colloquy Modern Orthodox Thinkers. He, typically, starts by joking about his own passing.