St Irenaeus relocates to Radboud University
Board and staff are pleased to reproduce the following announcement on the website of Radboud University: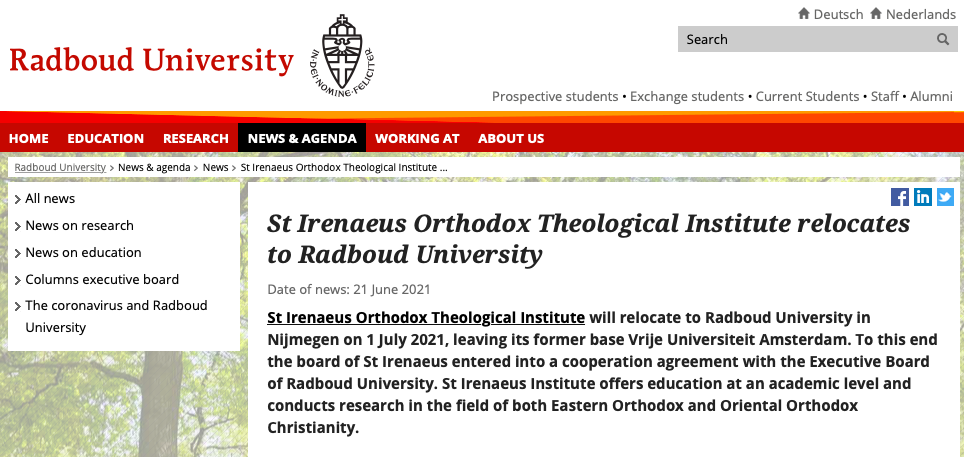 Read the article here.
Below the announcement on the website of our new university is reproduced in full:
St Irenaeus Orthodox Theological Institute
will relocate to Radboud University in Nijmegen on 1 July 2021, leaving its former base at Vrije Universiteit Amsterdam. To this end the board of St Irenaeus entered into a cooperation agreement with the Executive Board of Radboud University. St Irenaeus Institute offers education at an academic level and conducts research in the field of both Eastern Orthodox and Oriental Orthodox Christianity.
History


St Irenaeus was founded in 2020 and is named after the first great theologian of the (undivided) Christian Church: St Irenaeus of Lyons. The institute is the successor to the Amsterdam Centre for Orthodox Theology, which was established in 2010 as the Amsterdam Centre for Eastern Orthodox Theology. Rector of St Irenaeus, Dr. Michael Bakker: 'This was an important step in the emancipation of the quarter million people with an Orthodox background in the Netherlands. We are grateful to VU for allowing us to take our first steps at this university with its inspiring history.'



Future


Chairman of St Irenaeus, Professor Arno Akkermans: 'When, after our pioneering phase, we started looking for a permanent home for the institute, Radboud University was the obvious choice. This university houses the related Institute for Eastern Christianity

(IVOC)

and its professional library contains the literature we need for our research.' 



Wat is Orthodox Christianity?


Orthodox Christianity is one of the three major movements within Christianity (alongside the Roman Catholic and Protestant movements), comprising both churches based in Central, Southern and Eastern Europe and churches rooted in the Middle East and Africa. Some of these churches already have a long tradition in the Netherlands, others were established in the Netherlands relatively recently as migrant workers and refugees found a new home in this country. Orthodox is often written with a capital letter in this context to distinguish it from the adjective 'orthodox', which is mainly used to indicate the more conservative groups within religious traditions such as Judaism, Christianity and Islam.



Spiritual care


The main task of St Irenaeus as an Orthodox seminary is to provide clergy and chaplains needed in the growing number of Orthodox parishes and for pastoral work in the prison system, armed forces and in care institutions. In addition to the educational programmes, St Irenaeus's professors conduct academic research, in which more and more of their students are showing an interest.



Welcome


Professor Heleen Murre-van den Berg, Vice Dean of the Faculty of Philosophy, Theology and Religious Studies: 'We would like to welcome our new colleagues from 

St Irenaeus 

to the faculty. They are now busy setting up their educational programmes and we hope to mark their arrival with a symposium in their new environment soon. We look forward to a fruitful and stimulating collaboration in both education and research.'
---
Registration Pre-Master and Minors Orthodox Christianity
The St Irenaeus staff is expanding the institute's educational programme. Information concerning the Pre-Master Orthodox Christianity can be found here and concerning the Minor courses here. If you are interested in taking part in one of these programmes, then please register via the forms available on these webpages.