Inauguration of St Irenaeus Orthodox Theological Institute
St Irenaeus will be officially opened on September 9th and 10th. You are cordially invited to celebrate with us.
In 2020, the Amsterdam Centre for Orthodox Theology (ACOT) was rebaptised St Irenaeus Orthodox Theological Institute (short: St Irenaeus). In 2021, the institute relocated from the Vrije Universiteit Amsterdam to Radboud University in Nijmegen. These events took place during the Covid epidemic, so there was no possibility to meet and celebrate these steps. Now, we are pleased to announce that the opening of St Irenaeus will be marked by two special events: on September 9th the formal opening at the university ('Welcome to our new home') and on September 10th an informal gathering at which you can taste from what St Irenaeus has on offer ('Welcome to our kitchen'). 

Welcome to our new home
When: Friday, September 9th 2022, 14:30 – 18:30 hours
Where: Campus of Radboud University
14:30 Coffee and tea
15:00 Welcoming words
15:30 Lecture by the Very Revd. Professor John McGuckin, Emeritus Professor of Columbia University and archpriest of the Romanian Orthodox Patriarchate: St Cyril of Alexandria (c. 378-444): The Reconciler of the Church's Family Feuds
16:45 Programmes, plans and projects of St Irenaeus
17:30 Handing out of certificates to students, followed by a reception

Welcome to our kitchen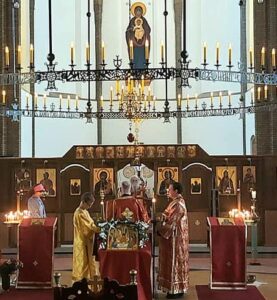 When: Saturday, September 10th 2022, 10:00 – 15:00 hours
Where: Orthodox parish St Cornelius the Centurion, Amersfoort
Admission fee: €15,- on a voluntary basis (including lunch)
10:00 Coffee and tea
10:30 Introduction
10:45 A 'taster' with several rounds of workshops
12:30 Lunch
13:30 Colloquy Orthodox Theological Education in the 21st Century
Speakers: Fr Andrew Louth and Fr John McGuckin, respondent Fr John Behr

You need to register for one or both events by filling out this form.
We hope to welcome you in September!
Abstract Lecture Fr John McGuckin on September 9th

The great Christological arguments of the fifth century have left divisions in the catholic and apostolic churches of the East and West (families of belief which are closely bonded by shared spirituality and deep tradition), which are present even to the present day, despite many attempts to resolve them. One of the stumbling blocks is the issue of whether the Council of Chalcedon in 451, with its doctrine of 'two natures – one hypostasis in the Incarnate Lord' betrayed the theology of St. Cyril of Alexandria which had been given oecumenical status at the Council of Ephesus in 431, and whether it contradicted his teaching of the 'One Incarnate Nature of God the Word Made Flesh'? St. Cyril has sometimes been portrayed as someone who stirred up conflicts, but can it be closer to the truth that he was very concerned for the unity of the church? and may model for us today ways out of our theological divisions that are both faithful to the patristic tradition yet also open-heartedly oecumenical?
For more information about Fr John, see: biography 
Defence of PhD thesis on St Cyril of Alexandria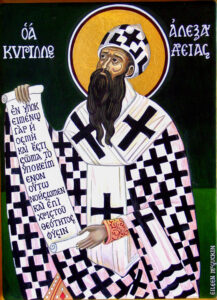 On September 9th, Father Joseph Lucas from Florida hopes to defend his PhD thesis Offerer and Offering, Cyril of Alexandria on Jewish and Christian Sacrifice. Promotor is Fr John Behr and co-promotor is Fr Andrew Louth, both staff members of St Irenaeus Institute. The defence precedes the inauguration of the institute at Radboud University (see above). You are cordially invited to attend both events. To register, please use the form concerning the inauguration of St Irenaeus.
St Cyril, his predecessor as Archbishop of Alexandria St Athanasios, and of course the first great Christian theologian Saint Irenaeus of Lyons are among the great oecumenical teachers of the undivided Church. The immensely erudite St Cyril received the honorary titles 'Pillar of the Faith' and 'Seal of All Fathers'. At the same time, Cyril is known as belligerent and controversial. Both Orthodox families (nowadays known as 'Eastern Orthodox' and 'Oriental Orthodox'), champion his writings. It is therefore important, instead of solely relying on secondary literature and translations, to closely study his work. This is what Father Joseph does in his thesis, in which he meticulously analyses several Bible commentaries written by St Cyril.