Inauguration of St Irenaeus Orthodox Theological Institute
Last Friday St Irenaeus institute was officially inaugurated at its new home, Radboud University in Nijmegen. Metropolitan Athenagoras, co-chairman of the Orthodox representative body, performed a small blessing of the waters. The other co-chairman, Archbishop Polycarpus, pronounced a prayer and the blessing. The dean of the faculty welcomed the institute at the university. Father John McGuckin delivered a lecture with the title St. Cyril of Alexandria (c. 378-444): The Reconciler of the Church's Family Feuds. He was then named an honorary fellow of the institute. The rector of the institute, Father Michael Bakker, presented an overview of the institute's programmes and projects. Finally, the chancellor of the university addressed the large audience, present in the hall or via a livestream.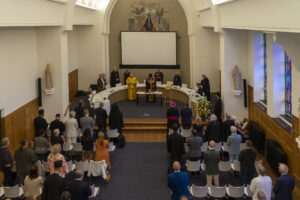 Defence of PhD thesis on St Cyril of Alexandria
On September 9th, Father Joseph Lucas from Florida successfully defended his PhD thesis Offerer and Offering, Cyril of Alexandria on Jewish and Christian Sacrifice. Promotor was Fr John Behr and co-promotor was Fr Andrew Louth, both staff members of St Irenaeus Institute. The defence preceded the inauguration of the institute at Radboud University.
'Welcome to our kitchen'
On Saturday September 10th in an open house event called 'Welcome to our kitchen', St Irenaeus institute organised a programme in the Orthodox Parish Amersfoort which allowed prospective students and others to sample what our institute has on offer. In two rounds of mini-lectures by our staff members, prospective students and others were able to get a peek into our kitchen. The mini-lectures were followed by a colloquium, in which our two Honorary Fellows, Fr Andrew Louth and Fr John McGuckin participated.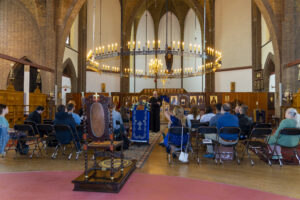 The spiritual father of our institute has fallen asleep in the Lord
On Thursday, September 1st, Metropolitan Kallistos (Timothy Ware) was buried in his hometown of Oxford. He died August 24th, almost 88 years of age. Memory Eternal!
His many books, articles and lectures are characterised by his profound knowledge, coloured by the practice of an Orthodox life. Making the complex tradition of Eastern Christianity accessible to a broad audience, with clarity and wit, was one of his main strengths. In doing so, he built bridges to Western Christianity, where his religious roots lay (he was raised an Anglican). Even at an advanced age he traveled all around the world. His books The Orthodox Church and The Orthodox Way have become a guide for many. With his wise counsel he gave direction to his spiritual children on their life's path.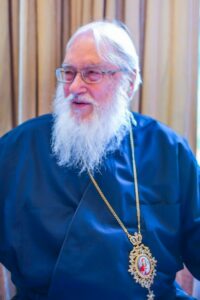 Metropolitan Kallistos can be viewed as the spiritual father of St Irenaeus Orthodox Theological Institute and of three of our staff members. He supported the establishment of the predecessor of our institute (Amsterdam Centre for Orthodox Theology) with enthusiasm and was keenly interested in its further development. Continuing in his vein, we aim to both deepen our knowledge of our different traditions and remain open to new developments and insights from within and without Orthodoxy. Our point of departure are the original works of Fathers and Mothers of the Church, to be studied preferably in the original language. His extensive work on translations has inspired us to prepare a Dutch translation of the Psalms from the Septuagint. Metropolitan Kallistos has visited The Netherlands several times. Here you'll find a lecture he delivered in Amsterdam in 2015, as part of the colloquy Modern Orthodox Thinkers. He, typically, starts by joking about his own passing.
Ordination to the priesthood of Simon Saliba
On July 24th one of our alumni, Simon Saliba, was ordained to the priesthood. He successfully finished our Pre-Master programme, continued his studies at Master's level, and graduated with a degree in Spiritual Care. Currently he works as a chaplain in several institutions. Mor Polycarpus, archbishop of the Dutch diocese of the Syrian-orthodox Church and a board member of the representative body OZI ('Orthodoxe Zendende Instantie'), ordained him for the Mor Augin parish in Hengelo. May God bless Father Simon!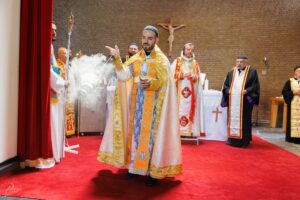 Educational programme 2022-2023
On September 5th we started our Pre-Master programme with a significant number of students. Registration for the academic year 2022-2023 is closed. On Saturday September 10th those interested in studying at St Irenaeus had the opportunity to get a taste of what our institute has on offer. Registration for the academic year 2023-2024 is open. More information is available on this website under 'Theological'.